On August 9th 2023, our staff at Unisea Maritime Services, Port Said Shipyard's executive management, other esteemed members of the Portsaid Chamber of Shipping, and the President of the Chamber of shipping, Mr. Adel El Lamei came together in a meeting to discuss Port Said Shipyard's North Yard expansion, development, and capabilities, followed by a live tour of all the mentioned.
The subsequent tour of Port Said Shipyard marked the significance of this maritime stronghold operated under the aegis of the respected Suez Canal Authority.

Legacy Meets Innovation
Port Said Shipyard, strategically located at the Suez Canal's Northern entrance, intertwines a storied past with forward-looking innovation. Established concurrently with the Universal Company of the Maritime Canal of Suez in 1869, this shipyard has nurtured its ship repair expertise over the years, subsequently extending its dominion into the realm of shipbuilding in 1960, a testament to its commitment to innovation.

North Yard Expansion: A Glimpse into the Future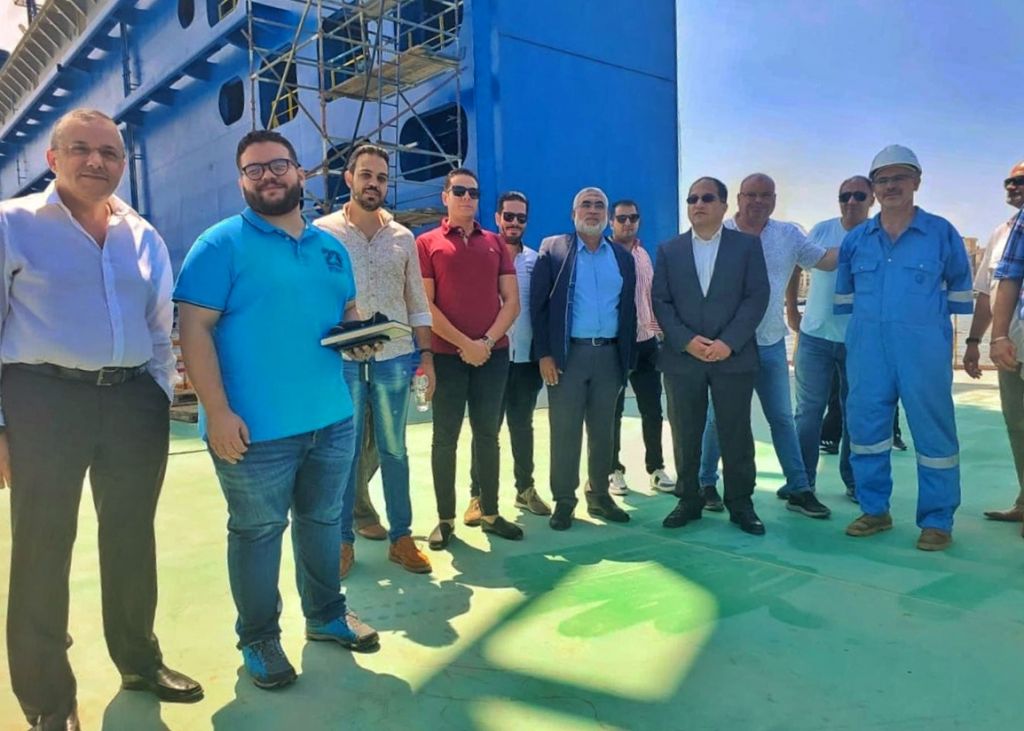 The site tour offered an insightful peek into Port Said Shipyard's state-of-the-art facilities and the unmatched proficiency of its workforce. Positioned as one of the eminent and well-established shipyards in the Middle East, its historical resonance is enhanced by its construction with the Universal Company of the Maritime Canal of Suez in 1869. The shipyard's journey, characterized by its ship repair excellence, has been augmented by its venture into shipbuilding, reinforcing its stature as a pivotal player in maritime services.
Encompassing an expansive area of 410,700 square meters, the shipyard's workshops span 29,990 square meters. This is complemented by a ship repair quay extending 1,409 meters in length, reflecting the shipyard's robust capacity to cater to a diverse spectrum of vessels for repair and maintenance.
Fakhr Al Qanah: The Epitome of Expansion
An outstanding facet of the expansion is the introduction of the Fakhr Al Qanah, an avant-garde floating dock. This dock, the latest addition to Port Said Shipyard's inventory, joins a trio of floating docks dedicated to the maintenance and repair of ships and marine units. With tonnages spanning from 5,000 to 25,000 tons, this expansion bolsters the shipyard's capabilities to undertake intricate repair and maintenance projects, even encompassing larger vessels like the colossal dredgers. The new basin's dimensions – 260 meters in length, 62 meters in width, and a draft of 18 meters, accommodating a load of 35,000 tons – underscore its capacity for large-scale maritime operations.
Expansive Capabilities and Services
Port Said Shipyard's repository of capabilities is expansive:
– Vessel Specifications: Proficiency in accommodating vessels up to 250 meters in height coupled with a draft of 10 meters.
– Maintenance Workshop: Expertise in meticulous paint and surface servicing, reinvigorating vessels' visual appeal.
– Machining Workshop: Equipped with a 5-axis machine and an advanced computerized CNC infrastructure, the workshop addresses multifaceted machinery requisites with precision.
– Casting and Forging Workshop: Equipped with spectrographic capabilities, the workshop is adept at addressing specialized maintenance demands.
– Piping Workshop: Delivering comprehensive solutions ranging from general pipe work to intricate Void Systems, ensuring seamless functionality.
– Electric Workshop: Proficiency extends from intricate electric work to sophisticated inversion from 50Hz to 60Hz.
– Electronic Component Workshop: Serving as a nucleus for electronic needs, ensuring optimal vessel operations.
– Gas Workshop: Catering to diverse gas-related requisites with adeptness.
– Floating Cranes (25-500 Tons): A versatile fleet of cranes catering to diverse maritime exigencies.
– Certified Divers: Authorized by the shipyard, skilled divers facilitate intricate maintenance underwater.
– Quality Surveying: Upholding exacting standards, certified quality surveys validated by IMPA reinforce the shipyard's commitment to excellence.
– Ship Building Steel: A well-provisioned inventory of ship building steel and adeptness in accommodating bespoke steel requisites upon demand.

To Success and Beyond
The expansion of Port Said Shipyard's North Yard stands as a testament to the harmonization of maritime tradition and visionary progress. The integration of historical eminence with state-of-the-art infrastructure propels into a new era of maritime excellence.